Part of the mission of the Chace Children's Discovery Library at PPL is to provide programs and resources for the parents of young children.
Our Family Literacy Bags for infants, toddlers and preschoolers provide books and activities for parents to share with their child, which will help to build skills children need to support success in school and in life.
Our Family Literacy Bags focus on nine areas of learning - creative arts, cognitive development, literacy, language, math, physical health and development, science, social and emotional development and social studies. Using the Rhode Island Early Learning and Development Standards Fun Family Activities as our guide, our kits contain:
3 - 4 picture books for the child

A book or other resource for the parent

Fun Family Activities cards in English and Spanish with book lists, activities and ideas to extend the fun and learning

A toy or activity for the family to engage in together which supports the child's development in the particular area

A Family Journal where families can share their experiences with the bag through pictures and/or writings

A survey for families to provide feedback as we continue to improve our resources
Take a look at what's inside!
For Educators and Students
Book Selection and Bulk Loans
Our support services for all Rhode Island Pre-K—12 educators allow teachers, school librarians and literacy coaches to borrow up to 90 books for eight weeks at a time. Professional librarian services include consultation, topic-specific book selection and assembly of large loans. We provide more than 10,000 items to classrooms annually! Class visits to the Library are also encouraged.
LARK: Learning and Reading Kits
Based on best practices for childcare providers and educators, LARKs bring quality literature and interactive learning tools to our state's youngest residents. With more than 160 different themes, and many available in Spanish as well as English, LARK kits are aligned with the Rhode Island Early Learning and Development standards. Each contains books, activity guides, music CD/educational DVD, worksheets, games, toys or puppets, and a bibliography list. Any Rhode Island child care center, family child care home, preschool, or kindergarten teacher may borrow the kits.
Providence Public Library has created 160 Learning and Reading Kits (LARKs) for preschool child care providers and educators. LARKs are thematic kits of early childhood library materials packaged in a plastic tub or tote bag. Each kit is bursting with 10-12 children's books, music or video, visual aides like puppets and flannel boards, and a wealth of hands-on fun — games, puzzles, toys, costumes, posters and much more! An activity folder in each kit offers you a choice of activities/ideas, helping you to effectively teach thematic curriculum units in a developmentally appropriate way.
Borrowing LARK Kits
To borrow a LARK you must apply for teacher privileges at Providence Public Library. Bring a personal ID and verification of your current employment (i.e., statement on agency/school letterhead signed by the director/principal) to Providence Public Library to apply for teacher privileges.
To request a LARK Kit
Call the Children's Room at 401-455-8098 and ask to speak with a children's librarian, or email Anne Leyon Kilkenny, Early Childhood Services, at akilkenny@provlib.org with your inquiry.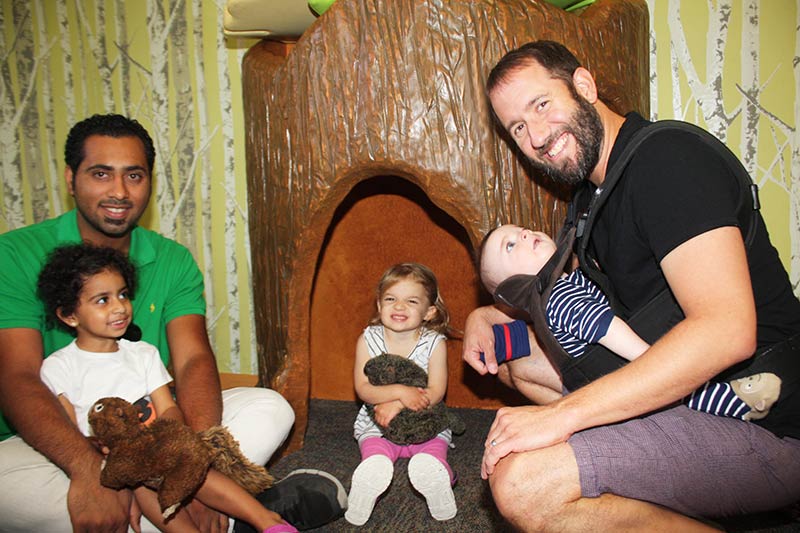 My experience would be completely different if I didn't come here. It is a special place for both my daughter Jumana and me to meet others and build lasting relationships while she is learning.
As an at-home dad, I was eager for opportunities to connect with other dads in the area. The Library has been a center point for us and Miss Anne (PPL early childhood educator) has really helped us spread the word. In addition to being a tremendous early learning program, it's a great place for us to meet, network and expand our group
Members of the Providence City Dad's Group