Providence LGBTQ+ History
PPL Special Collections has a focus on supporting community archives through consulting and collaboration. In 2020 we are formalizing a community archives initiative to collect and provide access to the history of LGBTQ+ people in Rhode Island. We are focused on ensuring the preservation of materials chronicling the social, cultural & political history of diverse RI LGBTQ+ people and organizations, in deep collaboration with members of that community. 
The Advisory Group includes representation from within the RI LGBTQ community and provides feedback and input on issues related to collecting, access and outreach. More details about this initiative will be developed by our Advisory Group in the coming months. We encourage anyone interested in learning more to reach out to us. 
Queer Voices of Rhode Island: Oral Histories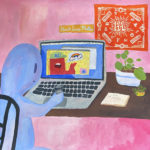 On June 4, 2020 PPL kicks off Pride Month and its Providence LGBTQ+ history collecting initiative with Queer Voices of Rhode Island - an event celebrating the donation of an oral history collection. During Spring 2020, Virginia Thomas and the students in her "Queering Oral Histories" class at Brown University collected oral histories of LGBTQ+ activists in Providence.
View clips of the interviews on the StoryMap! 
Interested in conducting your own oral history interviews and submitting them to the Queer Voices of R.I. project?  Download "The Space Between The Stars" zine to learn more!
"SCANDALOUS CONDUCT/NEWPORT 1919: The Enigmatic Providence Journal Editor Who Ignited the Newport Naval Sex Scandal"
As editor of the Providence Journal a century ago, John Rathom almost singlehandedly took a homophobic Navy entrapment scheme and turned it into a national scandal, one which brought homosexual "scandalous conduct" into daily newspapers and almost derailed the career of a future president. This talk looked at this colorful huckster and asked what it means when justice prevails but for all the wrong reasons.
This program was hosted by PPL on May 21, 2020 and was the first program in Scandalous Conduct/Newport 1919, a site-specific installation and series of public programs related to the Newport Sex Scandal, a largely forgotten but hugely important moment in the history of LGBTQ+ rights. The series was created by artists / curators Matthew Lawrence and Jason Tranchida. For more information on the whole project, visit scandalousconduct.com.
If you are interested in learning more or donating resources or archival materials to support this project, please contact:
Kate Wells
Curator of Rhode Island Collections