If You Could See Us Now!
Our upper levels and stacks are now open and our hours have expanded. We are now offering in-person tours on Wednesdays at 11 am. It's time to come on in for a visit! In the meantime, here's a fun virtual tour of our newly transformed Library!
Take a tour with us!
Mobile learning (Mlearning) is the use of digital learning resources that are designed for cell phones, smartphones, and tablets. Learning with mobile devices increases access to education by reducing the usual barriers of time, place, language, internet access, and WiFi service. Videos, gamified learning applications (known as "apps"), online courses, curated resources, and podcasts are among the learning resources that can be used in Mlearning. The choice of digital content can be personalized to the interests and skill level of the learner. Mlearning can also provide an onramp to employment and career advancement for adults by offering access to basic skills learning, vocational training, and even career coaching.
Public libraries can play a pivotal role in Mlearning through access and curation of resources, access, promotion, and support. Although accessing information through mobile devices is ubiquitous, adults often need guidance and support in locating and effectively using high-quality digital learning resources. Effective Mlearning resources present bite-sized content, have simple navigation features, and limit the amount of text on a screen. Libraries can help adults select and use digital resources, and offer a continuum of support from light-touch intervention to one-on-one tutoring.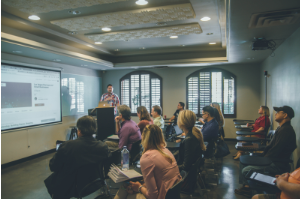 Implementation Example: Chicago Public Library
Use of learning circles at Chicago Public Library (CPL) dates back to 2014. Through a strategic planning process, the Learning and Economic Advancement Department was created to help advance new adult learning initiatives, including adult education, English language learning, digital literacy, and workforce development. In collaboration with Peer 2 Peer University, study groups were formed to deliver MOOCs to a wider and more diverse audience. These study groups became known as learning circles. Since 2015, CPL has continued to offer learning circles in library branches throughout the city. Learning circle topics address the needs of adults with low skills as a means of increasing opportunities for better-paying jobs, and of helping adults enter job training programs or college. Read More
Join Us!
Six libraries are invited to pilot one of the promising practices with support from the P3 team,