Francis Renault (1895-1955)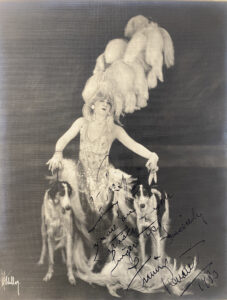 Francis Renault was an internationally celebrated vaudeville "female impersonator" with a beautiful soprano voice and an extensive, luxurious wardrobe. He was known for his impersonation of Lillian Russell, one of the most famous American actresses and singers at the turn of the century. In publicity, he was referred to as "The Slave to Fashion" due to his extensive costume wardrobe which was valued at $50,000 in 1932 (the equivalent of over $1.1 million today). In 1924, The Dallas Morning News noted that his wardrobe included "A copy of Marie Antoinette's wedding gown and a kimona [sic] covered with roses of gold hand embroidery".
Renault was born as Antonio Auriemma in Naples, Italy on September 5, 1895. The Auriemma family emigrated from Italy and moved to Providence, Rhode Island in 1901. His father worked in the jewelry trade in Providence. In 1910, the family lived at 100 Gesler Street in Federal Hill, Providence and by 1920 had moved to 1902 Smith Street, North Providence. In an interview with the Salt Lake Telegram on July 28, 1923, it was noted "Renault is a product of the read democracy of America, he says. As a boy he sold papers on the streets of one of the larger cities in the East. He was fond of singing, as most kiddies of the street are, and one day a priest heard him and induced him to repeat his song…Francis soon quit selling papers and was known as a boy soprano. From that to essaying feminine roles he says was but a short step. Most of his makeup secrets he developed for himself by observation and practice."
Antonio began performing as a singer and female impersonator in Providence vaudeville theaters in 1911 at age 16 using the stage name "Auriema". As his act gained in popularity, he soon began traveling across the United States as a popular performer  and adopted the name of "Francis Renault". He performed throughout the United States and in 42 countries, and frequently graced the stage at Carnegie Hall. He died in New York on May 20, 1955.
Unlike most other female impersonators of the era, Renault often appeared in public in women's clothing in the towns where he was touring, and was arrested several times for doing so. In 1913 he was arrested in Atlanta, Georgia and contested the local ordinance banning cross-dressing. Renault also had a short, early career as an amateur boxer as well as the owner of a nightclub and speakeasy in Atlantic City in 1924-1927. He had many admirers, supposedly including a young Cary Grant!
You can learn more about Francis Renault and see many examples of his costumes and photos of him at the RI LGBTQ+ Community Archives in Special Collections at the Providence Public  Library!