Naming honors late RWU President's commitment to educational partnership established with the Library
Providence Public Library (PPL) is proud to announce that it will name the Library's auditorium for Donald J. Farish, PhD, JD, who served as president of Roger Williams University (RWU) from June 2011 until his sudden and untimely death in July 2018.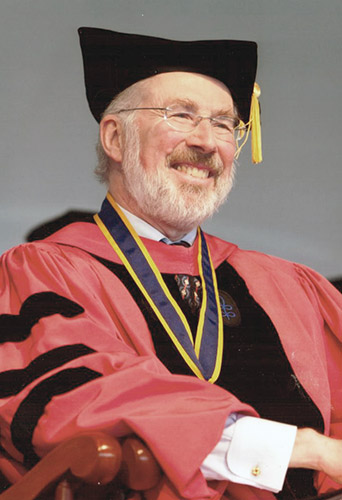 "We are thrilled to be able to remember Don in perpetuity, in this tangible, visible way," says Jack Martin, PPL's Executive Director. "PPL's relationship with RWU and with Don goes back to 2014 when he announced RWU's leasing of the building directly across the street from PPL for the University's new and greatly expanded urban campus. We were an early programming partner with RWU and continue joint programs with them today."
"The board and staff, and our donors, all believe that this is the right way to honor President Farish," says Rob Edwards, PPL's Board Chair. "RWU's commitment under his leadership to provide access to educational opportunities to underserved populations across Rhode Island is a mission and a commitment that is completely consistent with ours."
"Don and I were early supporters of PPL's THINK AGAIN capital campaign for the transformation of the 1950s building," says Maia Farish, who also serves on PPL's Board of Trustees. "Don recognized the importance of creating a strong relationship between PPL and RWU and I am so proud and humbled and honored that the auditorium will be named for him. I cannot think of a more fitting tribute and I am so incredibly grateful to my friends who have supported this effort."
Martin explains another PPL-RWU connection that factored into the decision to name the auditorium for Farish. About five years ago, PPL engaged the Boston architectural firm, DesignLab, to help transform the 1953-wing of the Library into a true 21st-century community education hub. Learn more about the Library's $25-million renovation.
Through RWU's Teaching Firm in Residence program within RWU's School of Architecture, Art, and Historic Preservation, the PPL renovation was the project assigned to a graduate-level studio class that DesignLab principal, Bob Miklos, was teaching. A select few of the students' final designs were presented to the PPL Board of Trustees and provided the inspiration and impetus for the THINK AGAIN campaign. "Thus began this amazing undertaking, and RWU was there right at the beginning. Naming the auditorium for Don just makes sense," says Martin.
For more information about how to support the THINK AGAIN campaign, please contact PPL's Director of Development, Erica Busillo Adams, at ebusilloadams@provlib.org.