Who Has a Seat at the Table?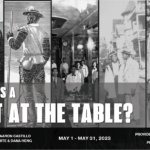 This exhibit explores the histories of five displaced communities in Providence, Rhode Island: The Narragansett Tribe, Colonial Black Heritage, Chinatown, Lippitt Hill, and Fox Point. The exhibit provides context by detailing what happened to these communities and examining how food and foodways can serve as a means of remembrance. Along with each history is an accompanying piece by artists Dana Heng and Nafis M. White that explores food and memory within the respective communities, revealing how we can preserve and remember these communities' legacies through food.
Guest Curator Aaron Castillo, Brown '23, did extensive research in PPL's Special Collections and curated this exhibit to create space and learn with other members of the community.
This forever incomplete public sculpture project, led by artist Eli Nixon, transformed recyclables into a menagerie of organisms in an effort to grok (and make more visible) the vastness of the horseshoe crab's time on Earth as well as the relative recentness of human existence. From April 2022-January 2023, Eli worked with participants (ages 9 weeks to 83 years) to sculpt and paper mache dozens of lifeforms, through an asynchronous yet collaborative process, in which each organism was created by multiple people. Both the process and the product attempt to decentralize colonized notions of time and ownership, upset linearity, revel in impossibility, and reckon with our enmeshment with the more-than-human world. Learn more
Wanderground Lesbian Archive: A Small Sampling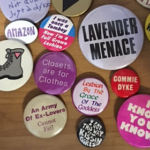 Since the early 1980s, Mev Miller has developed an extensive library of Lesbian/feminist publications – nearly 3,000 volumes and counting. She also has collected Lesbian media, art, and other culturally significant items. The materials make up the cornerstone of Wanderground, a Lesbian archive being developed as a community-based resource for New England (located in Rhode Island). They include: writings by RI Lesbians, early publications from independent Lesbian/feminist publishers, music and videos, art and artifacts and other life-affirming Lesbian legacies, examples of which can be found in this representative exhibition.
Would That: Expressions of Possibility in Asian America and Diasporas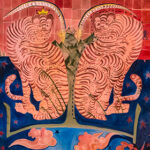 Would That: Expressions of Possibility in the Asian American and Diasporas is an exhibition of literary and visual arts created by members of the Providence, Brown, and RISD communities, and curated by Brown University American Studies artist-in-residence, Diana Khoi Nguyen.
Art works featured in the exhibition engage with notions of possibility, family, and futurity within the Asian American diasporas and intersecting diasporas. The exhibition is installed in the library's atrium (as you come into the library's Empire Street entrance), and in the stacks on the ground and first floors.
A map of the exhibit and a listing of participating artists and their exhibited works can be found here.
The exhibition is on view from May 4 - June 30, 2022.
Presented as part of PPL's Spring Exhibition & Program Series, Identities
Providence Waterways: Excavating the Layers of Field's Point
September 20, 2021 - December 20, 2021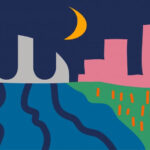 Here's a little point of land on the edge of Providence which holds layer upon layer of history. Field's Point, formerly an island, gives us a way into so many stories about our city. Using artifacts, documents, historic maps and images, let's explore these layers together.
Providence Waterways is a multimedia, collaborative, storytelling project. Through a combination of online and onsite experiences, Providence Waterways invites you to take a deep dive into place-based stories, sounds, and events that explore Providence's water. Visit the Providence Waterways website for more information about the Providence Waterways project.
Guest curators Traci Picard and Dan Mitrovic represent Doors Open RI and Providence City Archives, respectively.
This exhibit is a project of Providence Waterways, Doors Open RI, Providence City Archives, and Providence Public Library.
Providence Waterways is sponsored by the Rhode Island Council for the Humanities, the Rhode Island Foundation, the City of Providence Department of Arts Culture and Tourism, the Rhode Island State Council on the Arts and the Providence Streets Coalition.