Learning circles are a flexible model of group learning in which people meet regularly to work on an online course together either in-person or virtually. They build a sense of community that supports individuals who might otherwise not engage or persist in independent learning. This peer learning experience can prepare adults for online learning and serve as an on-ramp to more traditional adult educational opportunities. Similar to a book club, a learning circle meets for 1.5–2 hours a week for four to twelve weeks, in a library, other community space, or virtually.
Learning circles were developed by Peer 2 Peer University (P2PU) to increase access to high-quality educational opportunities that are free to participants. P2PU offers a database of open-source online courses, a community of practice, online facilitator training, and a handbook for facilitating virtual learning circles. In addition, libraries can use the P2PU platform and tools to create a customized site for promotion, registration and group communication.
During the COVID-19 pandemic, virtual learning circles became a popular option for those who could no longer meet in person. Virtual learning circles may continue to be the preferred format for adults who want the convenience of joining from any location that has internet access. Library staff will need to determine if  virtual learning is a good fit for the target audience.
Facilitating a Learning Circle
Learning circles are led by a trained facilitator who can be a librarian, educator, or volunteer. They do not need to be a subject-matter expert on the learning circle topic. The facilitator's role is to:
organize the program

provide an orientation to the online or digital learning resources

facilitate discussions to support learning

foster a sense of community
Library leaders and learning circle facilitators select the resources and design of the learning circle. Ultimately, meeting the needs of the target audience is the goal and might require modifying space for in-person meetings, adapting learning resources, or changing meeting times. Some libraries might even provide childcare to accommodate the needs of learners.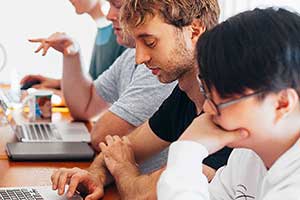 Implementation Example: Chicago Public Library
Use of learning circles at Chicago Public Library (CPL) dates back to 2014. Through a strategic planning process, the Learning and Economic Advancement Department was created to help advance new adult learning initiatives, including adult education, English language learning, digital literacy, and workforce development. In collaboration with Peer 2 Peer University, study groups were formed to deliver MOOCs to a wider and more diverse audience. These study groups became known as learning circles. Since 2015, CPL has continued to offer learning circles in library branches throughout the city. Learning circle topics address the needs of adults with low skills as a means of increasing opportunities for better-paying jobs, and of helping adults enter job training programs or college. Read More >