A Learning Lounge is a space within a library dedicated to providing adults with 'just-in-time' access to high-quality technology-enabled resources in welcoming, staffed, community environments to meet their education and employment needs. The following are some of the ways that Learning Lounges help adults:
access digital and community resources to increase their literacy and numeracy skills
complete online employment and college applications
create resumes
learn and practice English
build technology and career readiness skill
Learning Lounges were started by Providence Public Library in 2014 as part of a collaborative project aimed at increasing access and support for adults seeking education or employment opportunities. They can be staffed by educators, librarians or volunteers who have experience or training in facilitating adult learning. The role of staff is to circulate and provide individual or small group assistance in using technologies that can help them meet their goals.
In addition to technical support, staff might also provide well-informed personal referrals to local social, employment, or educational services, or administer assessments related to vocational training or digital literacy. Adults are welcomed to visit Learning Lounges as often as they need to accomplish their goals.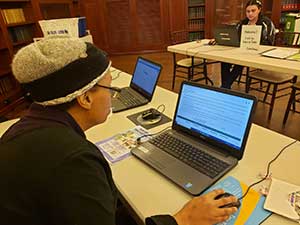 Implementation at Providence Public Library
Learning Lounges at Providence Public Library (PPL) grew out of a recognition that many adults face barriers to participating in traditional adult education classes. PPL hosts its own adult education program, the Rhode Island Family Literacy Initiative (RIFLI), that serves an average of 400 adult learners annually. This program, funded in part through a state adult education grant, offers classes for English language learners, digital literacy instruction, and workforce training. Classes are held in public libraries throughout the state, workforce development centers, public housing, public schools and community-based organizations throughout the state. Through its involvement in adult literacy, PPL saw the need to accommodate adults who are unable to attend fixed-schedule classes, who are on waiting lists for classes, or who need 'just-in-time' help with education and employment-related needs such as preparing a resume or completing an online job application… Read More >