Mobile learning (mLearning) is accessing digital and online learning resources through devices such as smartphones and tablets. The COVID-19 pandemic has increased our awareness of the reliance on mobile devices for learning and access to important information. Public libraries are well-positioned to expand the public's access to mLearning by:
introducing adults to high-quality mobile apps and learning resources
offering support in navigating and using mobile apps and resources
promoting mobile learning
Resources that can be considered for mobile learning include:
videos
learning apps
online courses
audio files such as podcasts
library- curated resources (relevant materials that have been vetted for content and quality and linked in a document, website, etc.)
Selecting High-Quality and Mobile-Friendly Resources
High quality learning resources have features of good pedagogical practice such as: 
content delivered through diverse media (text, video, audio, graphics, etc.) in order to offer different learning modalities

user interaction to engage learners and give them opportunities to apply learning

a means of assessment and feedback so learners can monitor their progress and set goals 
Learning resources that are mobile-friendly are created with what is referred to as a responsive design. Responsive design ensures the content is accessible on different sized screens.  
Approaches to Implementing Mobile Learning in Libraries
There are two primary approaches to introducing mobile learning to adults. The first is through direct promotion of one or more mobile learning apps that target a specific audience. For example, your library may want to extend learning to English language learners and promote the use of a free or paid library subscription to an ESOL learning app, or it might promote a mobile app that targets math skills to supplement a GED class or financial literacy program. 
Another approach is more of an awareness campaign. Library staff are accustomed to assisting patrons in locating learning resources. As part of this work, they might discover that the patron will be using a mobile device to access these materials. In this case, staff can investigate resources that are mobile-friendly. Most resources can be accessed through a mobile device, but not all of them are conducive to learning on a small screen. Library staff can play an important role in steering patrons to  high-quality digital learning resources. With both approaches, we recommend offering a continuum of support from light-touch intervention to one-on-one tutoring (See Learner Support).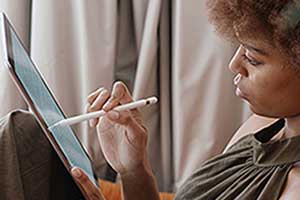 Implementation Example: Los Angeles Public Library
In 1984, with funds provided by the federal Library Services and Construction Act, the California Literacy Campaign was launched. This campaign, administered by the California State Library, was developed to establish community-based literacy programs at twenty-seven libraries throughout the state. The Los Angeles Public Library (LAPL), one of those inaugural libraries, is proud to remain a provider of adult literacy services over three decades later. Today, Literacy Coordinators in twenty-one library locations manage more than five hundred volunteers each year. These volunteers provide one-on-one, small group conversation; computer-based instruction; and walk-in literacy tutoring.
Read More >