Mobile learning (mLearning) is accessing digital and online learning resources through devices such as smartphones and tablets. The COVID-19 pandemic has increased our awareness of the reliance on mobile devices for learning and access to important information. Public libraries are well-positioned to expand the public's access to mLearning by:
introducing adults to high-quality mobile apps and learning resources
offering support in navigating and using mobile apps and resources
promoting mobile learning
Resources that can be considered for mobile learning include:
videos
learning apps
online courses
audio files such as podcasts
library- curated resources (relevant materials that have been vetted for content and quality and linked in a document, website, etc.)
Selecting High-Quality and Mobile-Friendly Resources
High quality learning resources have features of good pedagogical practice such as: 
content delivered through diverse media (text, video, audio, graphics, etc.) in order to offer different learning modalities

user interaction to engage learners and give them opportunities to apply learning

a means of assessment and feedback so learners can monitor their progress and set goals 
Learning resources that are mobile-friendly are created with what is referred to as a responsive design. Responsive design ensures the content is accessible on different sized screens.  
Approaches to Implementing Mobile Learning in Libraries

There are different approaches to introducing mobile learning to adults. One approach is to vet resources for their usability on a mobile device. Many patrons now rely on devices to access learning materials. Since not all resources are conducive to learning on a small screen, library staff can play an important role in steering patrons to high-quality digital resources that are accessible on mobile devices.
Another approach is promoting one or more mobile learning apps that target a specific skill. For example, your library may want to offer access to a library subscription for adults learning English, or you might promote a mobile app that targets math skills to supplement a GED class or financial literacy program.
And there are other ways to consider implementing mobile learning. In the video below, you'll learn how two libraries, D.C. Public Library and Providence Public Library, approached mobile learning and what they learned along the way.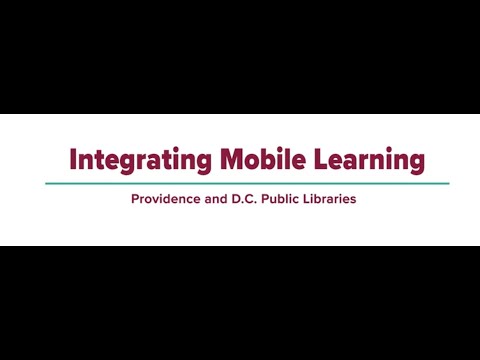 Certain basic conditions for success need to be in place to support the effective implementation of Mobile Learning.  After considering the elements below, you can use this Self-Assessment tool to reflect on your current capacity and determine which elements are strong or need strengthening.
Click on the images below to learn how each library implemented Mobile Learning.