Mobile learning is the use of digital learning resources that are designed for cell phones, smartphones, and tablets. Learning with mobile devices can increase access to education by reducing barriers of time, place, and access to technology.
Learning resources that can be used in mobile learning include:
videos
learning apps
online courses
audio files such as podcasts
curated resources
Mobile learning can provide an onramp to employment and career advancement for adults by offering access to basic skills instruction, vocational training, and even career coaching. Content can be personalized to the interests and skill level of the learner.
Public libraries can play a pivotal role in mobile learning through:
access and curation of resources
promotion
support
Although accessing information through mobile devices is ubiquitous, adults often need guidance and support in locating and effectively using high-quality digital learning resources. Libraries can help adults select and use digital resources, and offer a continuum of support from light-touch intervention to one-on-one tutoring (See Learner Support).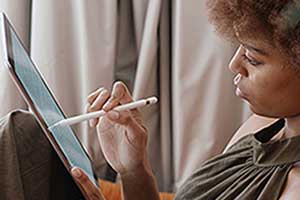 Implementation Example: Los Angeles Public Library
In 1984, with funds provided by the federal Library Services and Construction Act, the California Literacy Campaign was launched. This campaign, administered by the California State Library, was developed to establish community-based literacy programs at twenty-seven libraries throughout the state. The Los Angeles Public Library (LAPL), one of those inaugural libraries, is proud to remain a provider of adult literacy services over three decades later. Today, Literacy Coordinators in twenty-one library locations manage more than five hundred volunteers each year. These volunteers provide one-on-one, small group conversation; computer-based instruction; and walk-in literacy tutoring.
Read More >
Join Us!
Six libraries are invited to pilot one of the promising practices with support from the P3 team.